Careers and Guidance
Have you thought about your future?
College? Sixth Form? Apprenticeship?
What is your ideal job? What careers interest you?
The school contact for Careers Education, Information, Advice, and Guidance (CEIAG) is:
Miss K Barratt (Assistant Headteacher)
Tel: 0161 789 4565
Email: ephsgeneral@consilium-at.com
**The information on this page will be reviewed annually. The next review date is October 2022.
Overview:
Consilium Academies is working with its schools to develop appropriate access arrangements which make sure all students have the chance to access a range of opportunities that provide advice and guidance on careers, including academic and technical qualifications and apprenticeships.
Our preference is to provide events that cover all opportunities and allow students to receive a balanced approach to career guidance. During this period of development, Ellesmere Park High School will allow access to recognised education and training providers to talk to students in Years 8-11 about appropriate approved programmes. The provider should email their request to the email address on the contact us page of the website, providing a range of dates and an overview of what will be offered. Unless this coincides with a scheduled career event, any additional opportunities will be offered to students & their parents at the end of the school day. Providers should be prepared to produce information, flyers, and presentations for students and parents in advance of the event as well as contact information as the school/trust will not be able to operate as a broker/manage attendance registers etc.
How does the school measure and assess the impact of the careers programme on students?
At EPHS we use the Careers Compass and tracker tool to monitor and evaluate our practice against the Gatsby Benchmarks, collect student and employer feedback on CEIAG experiences and monitor NEET figures to assess the impact of our provision.
How you as an employer can help us…
At EPHS, we are committed to the wider Greater Manchester Strategy.
"That all our young people will successfully transition out of secondary school life ready and equipped for work and life-long learning."
As an employer, you can play a significant part in helping us achieve our goal.
If you are interested in providing any of the following, we would be delighted to hear from you.
Work Experience
Careers Talks
Student Mentoring
Offering a work place visit
Providing resources/sponsorships
Alumni:
It is always interesting to learn about the career journeys of our former students which helps inspire our students to see what they too can achieve. If you would be happy to share your career path once leaving school, please email the careers lead Katharine.barratt@consilium-at.com
Alumni information can be found on the PDF attachment below.
Find my future — video hub
A new video hub to help our young people find their next step into their chosen career path has been launched by Salford Council's Skills and Work team.
Video hub • Salford City Council
There is a range of videos from across different colleges, higher education providers, university and also local training providers. There is also information on financial support and emotional wellbeing and a whole range of videos from employers across the city and beyond.
www.salford.gov.uk/findmyfuture
Important Information:
To view a summary of our careers programme for 2021-22 please click here.
To view our CEIAG Policy please click here
To view our Leavers' Data for 2020 please click here
Post-16 Education:
Please use the links below to navigate to the sites for our local Post 16 Education providers.
You can read about the Post 16 provision in Salford here.
For information about STEM Jobs For Tomorrow, click here.
RAF Careers opportunities click here.
Please see the documents at the bottom of the page for more information on North Lancs Training Group (NLTG) or visit their website using the link below.
Useful Links:
issuu.com/gmhigher/docs/gmh109_parent_and_carer_guide_a5_v5
issuu.com/gmhigher/docs/yp_guide_web
gmhigher.ac.uk/for-parents-and-carers
Further careers guidance and information can be found here:
www.gov.uk/topic/further-education-skills/apprenticeships
www.manchester.gov.uk/apprenticeships
nationalcareersservice.direct.gov.uk/home
The National Careers Service provide information, advice and guidance to help you make decisions on learning, training and work. There is also guidance on writing CVs using the CV builder. Both parents and students can contact the National Careers service to speak to an advisor.
Barclays life skills can help students with advice, guidance and how to write a CV and parents can find out information on how to help their child.
Y7-Y11 Intention Statements with Resources
For Parents/Carers:
Parent/Carer Guide: helping your child being their career journey
Parents HE Pre16 talk - 9th June 2022 - see attachment below.
For Teaching Staff:
Here is a quick video that explains what the Gatsby Benchmarks are with some tips on how to incorporate careers learning in your subject https://www.youtube.com/watch?app=desktop&v=ylqMa5_0n2k
Resources:
Videos –
Job of the Week My Path – search on You Tube – short videos on a variety of different jobs
Posters for the classroom/area:
https://www.planitplus.net/Schools/SubjectCareerPosters/
https://www.apprenticeships.gov.uk/influencers/subject-snapshots#
https://www.pearson.com/uk/educators/schools/subject-area/extended-curriculum-and-btec/becoming-future-ready/pathways-to-employment.html
https://www.youthemployment.org.uk/teachers-resources/free-careers-posters-for-schools/
https://careerswales.gov.wales/careers-professionals/careers-wales-promotional-materials/subject-posters
Tools to use with students:
LMI widget www.lmiforall.org.uk/careerometer/
Allows you to type in a job and have accurate up to date labour market information on loads of different careers
e.g.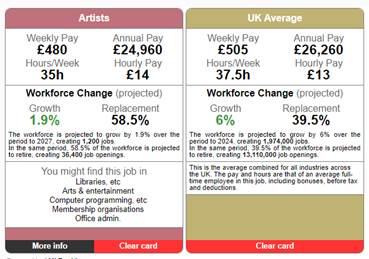 Useful Links:
www.princes-trust.org.uk/help-for-young-people/unlock-your-potential/explore-your-potential/achieve-learning-hub/achieve-learning-hub-teaching-resources
https://gmhigher.ac.uk/parents-and-carers/
https://gmhigher.ac.uk/my-student-journey/
https://barclayslifeskills.com/media/2203/send-navigation-guide.pdf
Careers advice - job profiles, information and resources | National Careers Service
GMACS | Inspire. Explore. Apply
https://www.salford.gov.uk/jobs-skills-and-work/find-my-future/video-hub/pathways/
https://resources.careersandenterprise.co.uk/all-resources-all-one-place?q=AET&op=%EF%80%82
https://resources.careersandenterprise.co.uk/my-learning-my-future
Below is a list of local further education providers and a link to their website:
Bright Futures
Loreto Sixth Form
Salford City College
The Skills Company
Stockport College
Trafford College
Date of the school's next review of the information published | June 2020
Year 9, 10, and 11s GM Higher Information
For year 9-11s: Curious about Higher Education? Looking for resources which will help you with your future choices? ASK US! Connect with one of the friendly GM Higher team www.gmhigher.ac.uk/askus they are there throughout the summer to answer any questions you might have about your future choices. One of the advisors (Jordan) is also a former pupil of ours.
Year 10 Careers Information
Year 10 Week of Work- click here for more info
Other useful links:
GM Higher
GM Higher
Ellesmere Park works closely with Greater Manchester Higher which is an impartial collaborative network, supporting young people to access aspiration-raising activities and awareness of all routes into Higher Education.
We recognise that the role of parents and carers is crucial in supporting your young person to access Higher Education so please look at the resources available to you including Parent Power podcasts: https://gmhigher.ac.uk/parents-and-carers/
The Parent and Carer guide is packed with useful information.
Resources for pupils: https://gmhigher.ac.uk/my-student-journey/
includes videos from current Higher Education students in the know:
Hear what students have to say - GM Higher
The Young Person's Guide to Higher Education includes tips on making your next steps towards higher education - college, apprenticeships, and university.
Curious about study options, Higher Education and student life ASK US! Connect with one of the friendly GM Higher team at any time: www.gmhigher.ac.uk/askus
GM Higher has invested in The Pay Index as a resource so it's free for our Y9-13 learners and parents / carers to use. The tool simplifies a lot of the information around average salaries to understand the real cost of living after graduating or entering the world of employment.
You can now sign-up and access the tool, so you can be well-prepared to support and advise your child as they make important decisions.
Every student in Year 9 to 13 can create an account and explore The Pay Index in their own time, which we hope they will take advantage of.
Sign Up via: https://thepayindex.com/gm-higher/signup
In response to the question 'what year group are you in?' please select: 'Parent/Carer'
University & Me a Guide for young carers
University & Me a Guide for Care Experienced Students
University & Me a Guide for Learners with Disabilities
#FindMyFuture
#FindMyFuture brings together all the different support available from Salford organisations into a one-stop shop to help guide young people aged 14 – 24. From information about training and employment to wellbeing, finance, and travel, there's a wide range of useful resources to help them take their next steps.
Whether they're school/college leavers, ages 16-18 NEET (not in education or employment) to ages 18-24 unemployed/NEET, there is something for everyone.
Click here to view the new online information hub for young people in Salford www.salford.gov.uk/findmyfuture.
Top 5 Career Sectors in Greater Manchester can be found in the pdf below.