Congratulations 'Class of 2023'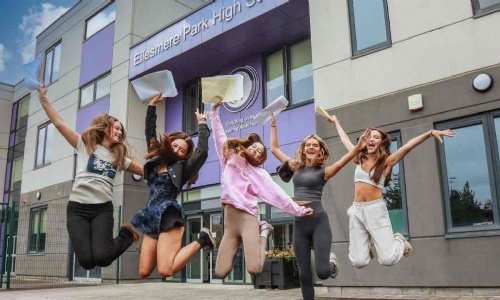 For GCSE results day 2023, and at Buile Hill Academy, Ellesmere Park High School, and Moorside High School, communities are coming together to celebrate students' achievements.
The results received today are a testament to the hard work and commitment Salford students have shown during their time at secondary school, and they will go on to help them shape their future choices, whether that's further study, an apprenticeship or training in the workplace.
This year saw a normal exam season after the turbulent years of the pandemic, and challenges remain in schools across the country. In recognition of this, the exams regulator Ofqual asked exam boards to consider the impact the pandemic continues to have on students.
Staff at the schools, all part of Consilium Academies, have gone over and above to support their Year 11 students, preparing them academically as well as emotionally to sit their exams. This includes targeted intervention, workshops during holidays and "last drop" sessions for students, as well as sessions for parents to ensure they understood the importance of working in partnership with students and parents.
This support has enabled students to secure some fantastic results this year, including:
Maria Covasa, Moorside High School, achieved seven grade 9s, one grade 8, one grade 7 and is intending to study A levels in Biology, Chemistry and Mathematics at Winstanley College.
Sam Bent, Moorside High School, achieved five grade 9s, two grade 8s and a distinction and is intending to study A levels in Geography, Mathematics and Sociology at Loreto College.
Maia Birkett (Main Photo), Ellesmere Park High School, achieved one grade 8, two grade 7s and five grade 7s, and is going to study at Pendleton College.
Delilah Browning, Ellesmere Park High School, achieved two grade 9s, three grade 8s, two grade 7s, and one grade six, and is going to study at Loreto College.
Farriz Bachabi, Buile Hill Academy, achieved five grade 9s, one grade 8 and two Grade 7s and will be going on to study Economics, Maths and Computer Science at Loreto College.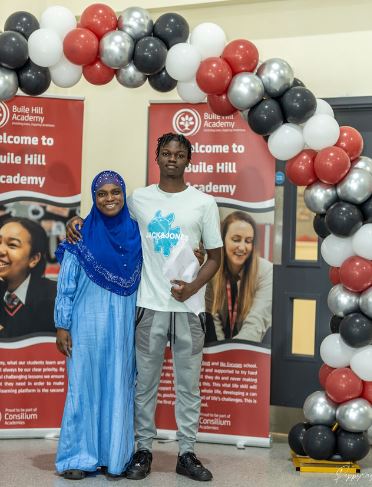 Lacey Davies, Buile Hill Academy, achieved two grade 9s, four grade 8s and two grade 7s and will be going on to study Biology, Chemistry and Spanish at Loreto College.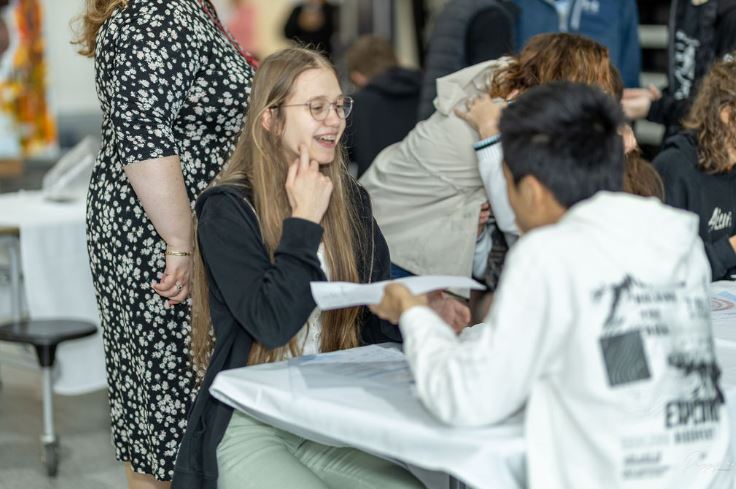 Helen Ryles-Dean, headteacher of Moorside High School, said:
"I cannot speak highly enough of the staff and students for the way they have tackled all the challenges that we have faced over the past few years. We are incredibly proud of all our students, and they are far more than a grade to us. The resilience they have shown under such conditions is remarkable. The success of our students is down to their hard work, and exceptional effort, combined with the passion and enthusiasm of our staff at Moorside High School who, year after year, give huge amounts of additional time, support and guidance whenever it is needed. We have seen some individually outstanding results, but whatever the students' results are, it is important to remember that there are many different options out there, with lots of high-quality routes into further study, the workplace or a combination of both.
"These academic achievements have been matched by our students' many and varied contributions to the life of the school and it has been a great pleasure working with them. They have so much to look forward to and will no doubt make a positive difference wherever they go in the next stage of their lives.
"I feel very privileged to be leading such a wonderful school community and we wish all our Class of 2023, all the very best of luck in their next steps and look forward to seeing what they will achieve in the future."
Iain Ross, headteacher of Ellesmere Park High School, said:
"I am incredibly proud of Ellesmere and the achievements this year. Academic success, and innate ability to perform confidently alongside children from the most privileged families, is our absolute goal for every child. It has been a tough year for many and the effects of Covid, in my view, still affect many of our students. Despite this, they took full advantage of every opportunity offered to them to be fully prepared for the ultimate lengthy exam season, and have worked hard. It has been heartwarming and a joy to see their confidence and resilience grow as the year progressed, supported by the dedicated staff of Ellesmere.
"Today, the results speak for themselves. Seeing the children celebrate with their teachers, their families and each other is a reminder of what we are all about at Ellesmere. I wish them every success in their next steps and will always remind them that this is their school and they are always welcome here."
Farihah Alam, headteacher of Buile Hill Academy, said:
"Congratulations to all of our students, who despite the challenges they have faced over the five years, demonstrated a real commitment and tenacity through their exams. We are proud of all our students who have worked so hard over these years and wish them all the best for their future careers."
Tracey Greenough, acting CEO at Consilium Academies, said:
"I want to wish all our Year 11 students a huge congratulations, not just for these exam results, but for all of their achievements throughout their time in secondary school. We are so proud of how they have conducted themselves, and the resilience they've shown during challenging times.
"I also want to say thank you to our staff, who have worked so hard to ensure students have the tools they need to achieve anything they choose to. I look forward to seeing what they do next."