LOCAL TEACHER INSPIRES STUDENTS WITH RUGBY CHAMPIONSHIP WIN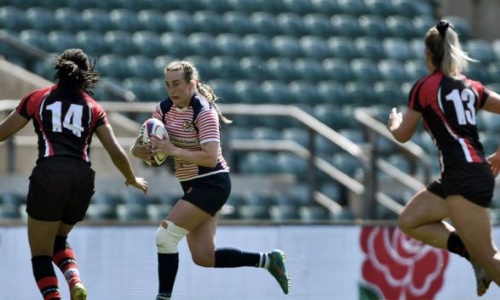 Rowanne Smalley, head of PE, played at Twickenham and returned to school victorious
Our head of PE has returned to school victorious after her rugby team won the Gill Burns Division 1 County Championship Final at Twickenham Stadium.
Rowanne Smalley, who was newly appointed at Ellesmere Park High School in Eccles last summer hopes that her commitment to the sport and success within it will inspire the girls she teaches.
Participation in girls rugby has steadily increased for a number of years: in 2021, England Rugby found that women's and girls' rugby has seen an average yearly 12% growth over the past decade.
Smalley wants to see this continue across the county, and is keen to support girls at Ellesmere Park, part of Consilium Academies, who want to pursue rugby as both a hobby and a potential career. A great role model, Smalley has played for Lancashire for six seasons.
Lancashire had to fight through three gruelling rounds to make it to the final (28 May), but after conceding early on, the team showed true Northern Grit to come back in style, and went on to earn the privilege of playing at the home of English rugby. Smalley played in the position of open wing side, and scored a try herself. The final score was Lancashire 25 - 15 Buckinghamshire.
Rowanne Smalley, head of PE at Ellesmere Park High School, said:
"I loved sharing the success with my students at school, and I hope that this win can inspire all of them, but especially the girls, to pick up the sport I love so much. Having my local club so close to the school means we have a strong community tie with the junior section at Eccles RFC, and already we are starting to see both boys and girls transitioning across to play club rugby.
"Playing at this level really is an honour and a privilege, especially when you consider that the whole squad have trained and worked so hard around their jobs and home life. I'm proud of everything we've achieved as a squad, but I'm especially proud that I was able to put my home club Eccles RFC and Salford on the map. I don't think I've ever hurt so much yet been so absolutely thrilled after a game of rugby.
Frankie, Year 8 at Ellesmere, said:
"Miss Smalley is always showing us different activities and challenging us to try our best no matter what. She really encourages us to enjoy our PE lessons and sport fixtures, because we see how much she loves it too. Having a rugby player as our teacher is special because not everyone expects her to do it and it proves that she is strong and powerful."
Iain Ross, headteacher of Ellesmere, said:
"A school is so much more than a building. Having teachers who inspire our students is vital – and there is no better example of this than Rowanne. Having someone who can share her experiences at playing in one of the country's premier venues in front of thousands of people shows our students what they can achieve and is within their grasp with hardwork and dedication.
"Rowanne is the perfect example of the ambition and aspiration we look to instil in all of our students at Ellesmere Park High School."