ELLESMERE PARK STUDENT BAND 'BLEECH' CROWNED SALFORD CITY BATTLE OF THE BANDS CHAMPIONS FOR SECOND YEAR RUNNING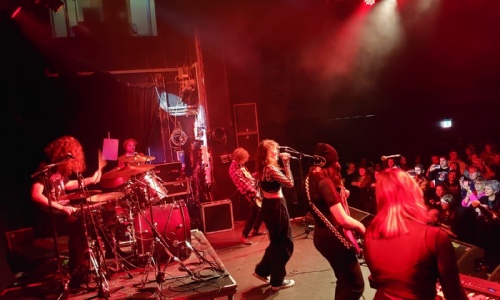 Bleech set to perform at Manchester Academy 2
On Tuesday 24 January, Ellesmere Park High School's Year 10 band 'Bleech', won the prestigious Salford City Battle of the Bands 2023 for the second year running, which took place at Future Skills College, Salford.
The unknown judging panel consisted of profession musicians and sound engineers, with judges drawing names and determining the order of performance. After only 15 minutes of deliberation the winner was announced, with Ellesmere Parks' Year 10 band Bleech coming out on top.
In order to win Bleech performed 'Times Like These' by the Foo Fighters, 'Just the Two of Us' by Bill Withers and 'Hide and Seek', an original composition from Bleech.
The judges commented on the quality of the bands with regards to musicianship, alongside the great quality of drumming, guitar solos, piano, bass and professional vocals, all their command the stage and with the audience.
Six bands from Ellesmere Park competed against Salford schools and colleges, with students from Year 8, 9, 10 and 11 taking part and competing against the tough competition, especially against many established college bands.
The Year 10 students in Bleech will now be entered into the larger Battle of the Bands competition for Greater Manchester, which will take place at professional music venue, Manchester Academy 2 on the 12 March 2023. As well as this incredible opportunity to perform at a renowned venue, Bleech also won the opportunity to record two songs in a professional recording studio.
Elliott Barrett, Eva Murphy, Finlay Murphy, Alice Kerfoot, Lili Wlodarkczyk, Year 10 Ellesmere Park students who are members of winning band Bleech said: "It felt amazing to win again! The sound at the event was fantastic, we're so excited to go and perform at the Manchester Academy again.
"We are really grateful for the opportunities given to us by the music department at Ellesmere Park High School."
Mr McNamee, Head of Performing Arts at Ellesmere Park High School, and Consilium Academies Leader of Education for Music, said:
"Taking our student bands to the Battle of the Bands again this year was magical. Their performances were outstanding, and their confidence was incredible. We are so proud of every single one of them. We were just in awe to see their punchy and high-quality musical performances on the day. We cannot wait to see our students in Bleech perform again this year at Manchester Academy 2.
"We have a vision to give our students as many opportunities as possible to succeed, develop as performers, grow and celebrate their talents, and it's these events which show that our vison is becoming a reality for our students."
Iain Ross, Headteacher at Ellesmere Park High School, part of Consilium Academies, said:
"A huge congratulations to all our students who took part in the Salford City Battle of the Bands, we are so proud of their efforts. At Ellesmere Park, we encourage every one of our students to be expressive, vibrant, and creative.
"What a brilliant opportunity for our students to shine and showcase their talents – against really tough competition."