'Ellesmere Parklife' Music Festival Launched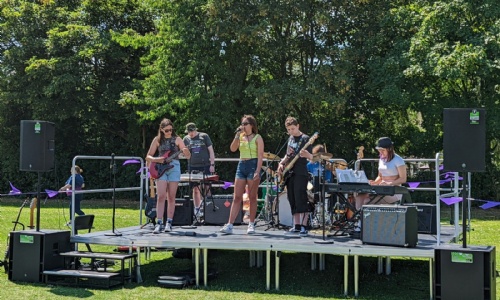 On Saturday, 16 July, the performing arts team at Ellesmere Park High School, part of Consilium Academies, hosted its inaugural Ellesmere Parklife Music festival, including 5 hours of performances by Ellesmere Park students for the 450 festivalgoers, raising almost £1k for Manchester Forever's Singing with Dementia group.
Taking influence from Manchester's very own Parklife festival, the Ellesmere Parklife Music festival line-up featured non-stop performances from 60 Ellesmere Park performing arts students from 11am until 4pm, as well as bouncy castles, burger vans, ice cream vans, fancy dress, and face paints. Next year will see fairground rides added to the event.
Local music school, The Music Shed, as well as local music service, Mapas, also had the chance to perform and showcase their skills to Ellesmere Park's community. Ellesmere Park's performing arts team had t-shirts made for the festival, which are still on sale for £2 with all proceeds going to their chosen charity.
Parents of Ellesmere Park students said the school seemed like a professional music school, while students commented:
"It's a day I will never forget."
"Better than any concert I've done so far. I loved it."
"I loved the variety of musicians. It felt and looked like a proper music festival with the stage, bands and food and drink stalls. It was top."
Mr McNamee, Head of Performing Arts at Ellesmere Park High School, and Consilium Academies Leader of Education for Music, said:
"When I arrived at Ellesmere Park High two years ago, I had a vision give our students as many opportunities as possible to succeed, develop as performers, grow and to eventually put on our very own school music festival to celebrate their talents. I am so proud of how far we have come and continue to grow as a vibrant team here at Ellesmere Park High School.
"All our teaching in lessons, the extra-curricular activities, the trips, the shows, and concerts that we have offered this year were a huge success, and this festival was the final sprinkle on the cake to end our year.
"Our students were incredible. If it wasn't for their determination and buy in to our performing arts vision, this magical day wouldn't have happened. It was very humbling to see how many people jumped on board to help us to make this a reality. I'd like to say a big personal thank you to Stephanie Hilton, our administration officer at Ellesmere Park. Our performing arts team is so grateful for her fantastic efforts and work done behind the scenes to help make this event a real success."
David Clayton, CEO at Consilium Academies, said:
"Giving every one of our 6,071 students access to performing arts is central to our mission to ensure every child has equal chances, and an equal start in life. The performances at Ellesmere ParkLife demonstrate that our students can achieve anything, and the determination of our colleagues like Mr McNamee and his team who won't stop at anything to support them to do so.
"This festival is a unique opportunity to showcase the talent of our students, and I am so proud of them for their hard work and resilience to pull off such an outstanding show. Not to mention the amount raised for such a worthy cause. I can't wait to see what opportunities next year's event brings."